From the Marketup-booking Configuration page it is possible to choose between various date formats.
Some countries are more familiar with the format Month/Day/Year, some others prefer the format Day/Month/Year while the military format Year/Month/Day sometimes is more readable by users of different countries.
When Saving the Configuration page, you will not see the new Date Format immediately applied in the front-end. This is because some configuration settings are saved in the PHP Session to cache some contents and speed up the loading process. It is necessary to click the Renew Session button from the Configuration page, after saving the changes, to immediately apply the new configuration settings.
The view 'Room Details' of your WordPress front-end can display a number of availability calendars that can be defined from your dashboard Administrator panel > marketup-booking> Configuration page. If the number of calendars is set to 3 (by default), the Room Details page will display the availability of the current month, plus the availability of the next 2 months. Three months in total. It will be possible to check the availability of the next 12 months by using the drop down menu displayed above the availability calendars.
Each Room Type can enable a different type of Availability Calendars from its parameters in the Edit page. The other type is called 'Price Calendar' and, if enabled, the default statuses will be different for styling reasons.
The default statuses are the ones of the screen shot above. The statuses 'Partially Reserved', 'Check-in Only' and 'Check-out Only' can be turned off from the Configuration page of Marketup-booking.
The availability is calculated depending on the Confirmed bookings received. No other statuses will affect the availability calendars.
- Available: this status is displayed on any date available for check-in and check-out where there are no confirmed reservations.
- Partially Reserved: this status shows the dates where there is no full availability of the room type but still some units available. For example, a Double Room of 10 units that has just 6 units booked but 4 units still available. This status can be turned off from the Configuration and it is valid only for the room types having at least 2 units available as full inventory.
- Check-in Only: this status is used just for the room types that have 1 unit available as full inventory. If there were more units available, this status would never be used. A date displayed as 'Check-in Only' means that someone is checking out (departing) on that day but the check-in is allowed because it will be at a later time.
- Check-out Only: this status is used just for the room types that have 1 unit available as full inventory. If there were more units available, this status would not be used. A date displayed as 'Check-out Only' means that someone is checking in (arriving) on that day but the check-out is still allowed because it will be at an earlier time.
- Not Available: this status doesn't need a detailed explanation. Bookings for these dates are not allowed. Of course, bookings are not even allowed on dates that include one 'Not Available' day.
Restrictions can be created from the apposite page of the back-end, under the menu Pricing. You will be asked to enter a Name for your rule to distinguish the restriction from others. The second required setting is the validity for the rule: you should set either a Month to which the restriction is applied regardless of the year, or you should define a range of dates. You should not combine the validity filters, you should use one or the other.
The rest of the parameters will actually let you define the constraints of your rule:
- Force Arrival Week Day: this parameter is only valid for your website. It is NOT supported by the Channel Manager because OTAs do not support forced combinations of weekdays for arrival or departure. If you are using the Channel Manager and if you are looking to use this feature, please refer to the parameters below CTA/CTD, as that's how you can accomplish the same configuration.
You can choose to force the arrival on one or two days of the week. If you select two days, you will be asked to select the allowed combinations, like Fri-Mon, Fri-Fri, Mon-Mon.
- Minimum Number of Nights: this setting is also often called "minimum stay" or "minimum LOS", where "LOS" stands for "Length of Stay". By setting a value greater than 1, customers will have to stay for at least this number of nights.
- Multiply Minimum Number of Nights: if you activate this checkbox, the minimum stay will be allowed only for multipliers of that value. For example, if the minimum stay is 7 nights, with this setting available 8 or 9 nights would not be allowed, only valid multipliers of 7 will. So 14, 21, 28 etc.. This setting is useful for weekly rentals.
- Maximum Number of Nights: contrary to the minimum stay, this setting defines the maximum nights allowed for booking. Please notice that the configuration of the page Rates Table may also be used to leverage (just for your website, not for the Channel Manager) the maximum number of nights of stay. In fact, only for your website, if you define rates up to 15 nights in the page Rates Table, a booking for a greater number of nights would not be allowed. This is because the system always requires to have a "basic" cost defined for each number of nights of stay allowed.
- Set Days Closed to Arrival (CTA): this setting is often shortened with "CTA", which stands for "Closed to Arrival". You can decide to deny the check-in on some week-days on the specified dates/month for your Restriction.
- Set Days Closed to Departure (CTD): contrary to the CTA setting, this will let you deny the check-out on some week-days.
- Apply to all Rooms: this setting has a big impact over the whole system of the Restrictions. In fact, if you enable it, you will create a "Global Restriction" that will be used by all booking forms of the site. If you disable this setting, then you will have to choose at least one (or more) rooms involved. In this case, you would create a "Room Specific Restriction" that will be applied ONLY in the booking form of the Room Details page. The other "global" booking forms could not apply this restriction to help the customers choose the correct dates, as it has a filter for just some rooms.
Overlapping Dates
It is possible to create multiple restrictions, maybe with a different range of dates, to override some previous rules. For example, if you had defined a 3-night minimum stay for the month of July, but just on some dates of July you would like to allow bookings for 1 night (maybe to sell the so called "orphans"), then you could override the Restriction for July by creating a new one for just some days in July.
There is one important thing about the Restrictions with overlapping dates: the newest restrictions will have higher priority than the older ones. In the example above, if you created at last a second restriction for just some days of July, this rule would overwrite the previous rule for the whole month of July, of course only for the dates you selected.
With this intent of overwriting previous rules, since the version 1.11 of Vik Booking it is also possible to create Restrictions with no "real" rules. This means that you could create a Restriction that defines a minimum stay of 1 night with no other restrictions (no Max LOS, no CTA/CTD), whereas 1 is always the default minimum stay. This is useful in cases similar to the example above, where you need to overwrite a previous rule on just some dates that were previously affected by the other rule. Previous versions of the system would consider "useless" a restriction with 1 night of minimum stay and no other rules, it was required to specify at least a maximum stay or some CTA/CTD days.
Orphan Dates
First off, the Orphan Dates are nothing to be worried about. This function may be useful for some properties, but useless for others. It is just a very demanded function among our customers, and so we decided to implement it in Marketup-booking. If you see an alert/modal window that informs you that some "Orphan Dates" were found, just don't panic. It could be just what you wanted to set up for the booking process.
Some dates (nights) are defined as "Orphans" when it is not possible to book them due to some restrictions that force a minimum length of stay of 2 or more nights.
If you look at the screen shot below, you will see that the night of January 29th is an Orphan Date because it cannot be booked by anyone. In fact, on that day there's a minimum stay of 2 nights, but the day after (January 30th) is fully booked. This makes January 29th an orphan because no customers will ever be able to stay on that night. The system would suggest to reduce the minimum stay to 1 night in this case, so that customers could book that night.

If the system finds some Orphan Dates, then these will be displayed also in the page Dashboard and Availability Overview with an alert message like the one below: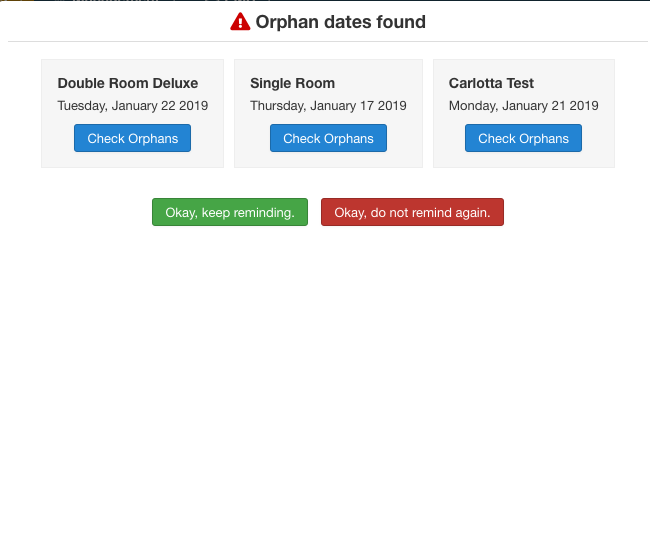 In conclusion, if you don't care about the Orphan Dates you can just dismiss or ignore the alert messages.